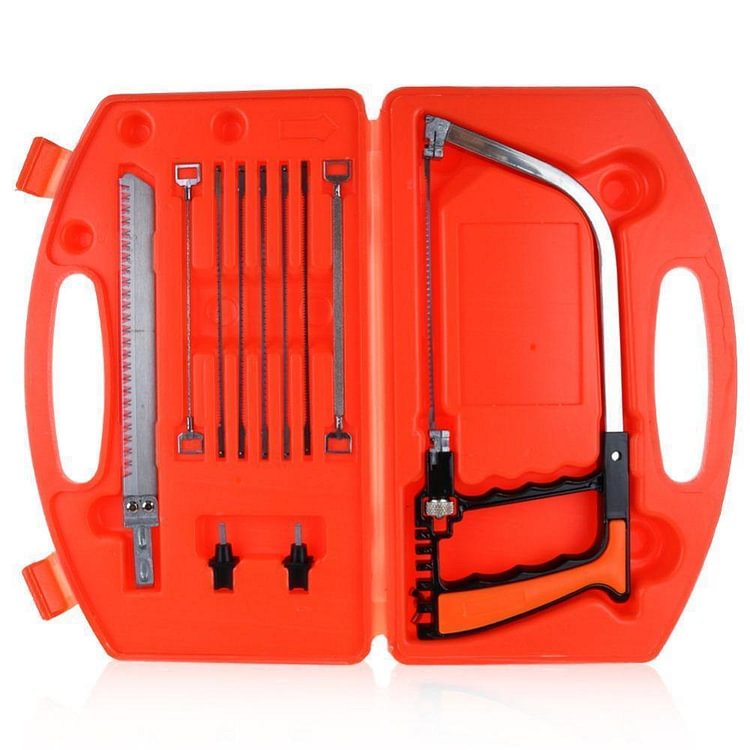 Sharp serrated saw blade with replaceable blades can be installed in different angles and easily cutting out line arc and circular waves, and makes quick work of small cutting tasks.Widely used in construction, decoration, handicraft processing, advertising, branch pruning, home, outdoor and model making, owning it will make your hands-on ability even more powerful.
Being polished, the saw blade is anti-corrosive, anti-dust, abrasive and clean.
Made from high-carbon steel and being quenched, the saw blade is strong, rigid, tough, durable and strictly functional.
The saw is light and the blade is sharp. It can cut aluminum, nail, pipe, wood, rope, ceramics, bone, metal, and etc.
Having been delicately processed, the blade serration is rigid and tough to ensure cutting speed and flatness.
The saw handle and frame is designed to conform to ergonomics to save efforts and speed up during work.
Two kinds of saw blades included in the case, one is the fine serration blade, which can be used to cut metal products,and the second is the rough serration blade, which can be used to cut wood products.
Specifications:
Saw body: aluminum;
Saw blade: high-carbon steel;
Polishing bar: 110*4.8*1.4mm;
Ceramic bar: 110*1.8mm;
Drill bite size: 3.25*2mm;
Saw size: 26*10*1.5cm;
Blade (fine serration) size: 150*3*0.4mm;
Blade (rough serration) size: 160*18*1mm.
Package Includes:
1pcs Saw;
2pcs Drill bit;
1pcs Screw.
1pcs Polishing bar;
1pcs Ceramic bar;
5pcs Saw blade (fine serration);
1pcs Saw blade (rough serration).
Notes:
Please allow 1-3cm measuring deviation due to manual measurement.
Due to the different monitor and light effect, the actual color of the item might be slightly different from the color showed on the pictures.