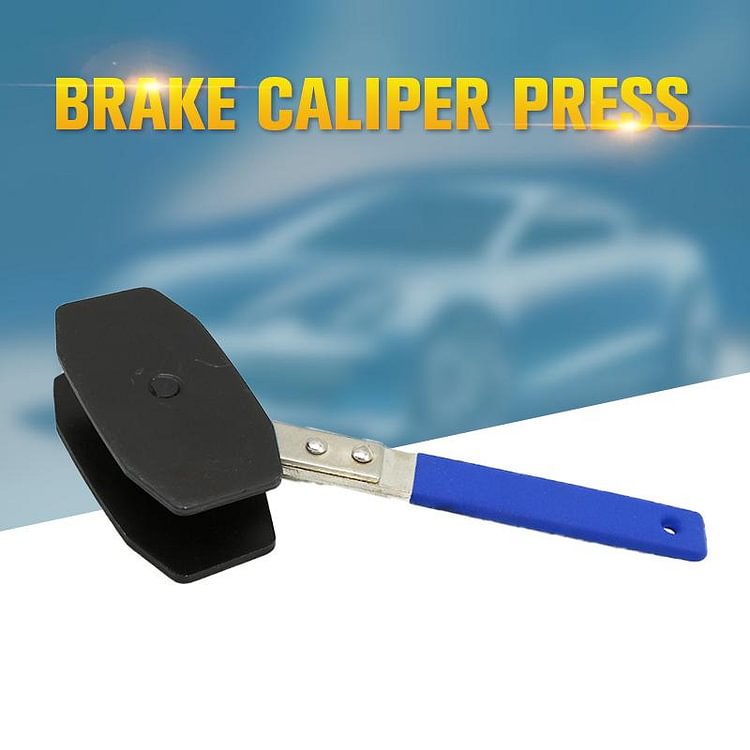 BRAKE CALIPER PISTON TOOL: Use the Brake Caliper Press to compress pistons quickly and easily into the calipers; Disc brake pad spreader tool creates a larger space between the caliper cavity to make room for newer and thicker brake pads; Quad and dual piston brake caliper tool comes pre-lubricated to protect against oxidation; It is suggested to lubricate before uses.
FITS YOUR VEHICLE: Disc brake caliper tool set includes 2 sets of piston plates that spread from 1-9/16 to 2-3/8 inches (2.5 to 5.1 cm) to allow plenty of room to install new brake pads;

Use as a single piston caliper tool, a dual piston caliper tool, a quad piston caliper tool, and a rear brake caliper tool;

This versatile caliper piston compressor tool is ideal for cars, trucks, and some commercial vehicles;

Works on both fixed and floating calipers.

RATCHETING ACTION: Brake piston compression tool provides a 360-degree swing that allows you to keep the compression plates in place while you lever the handle back and forth to spread or retract the plates; Centrally located ratchet screw creates even force when compressing pistons to ensure proper alignment and to prevent damage to your brake components; Reverse tool movement to retract compression plates by flipping the switch on the handle.
EASILY RESET YOUR BRAKE CALIPERS AND PISTONS: Drain fluid from calipers using approved brake pressure relief procedure then remove the caliper and worn brake pads from your rotor assembly; Retract brake caliper press plates to fit inside the caliper cavity; Begin ratcheting slowly and steadily until the pistons have retracted completely; Retract compression plates to remove the disc brake piston tool from the caliper cavity.
BUILT TO LAST: Constructed of carbon steel, the ratcheting screw and pad plates are designed for maximum strength and durability; Thick 7.8-inch (19.8 cm) steel handle features plastic shell for comfort and efficiency; Brake piston spreader set includes (2) 4-5/8 by 2-3/8 inch (10.2 by 5.1 cm) plates and (2) 7 by 2-3/8 inch (17.8 by 5.1 cm) rotating plates; Larger plates are held in place with built-in magnets for easy attachment and removal.
Specifications:
Color: 

Big red handle, Small blue handle.

Size:

  large size is 270 centimeters and the small size is 230 centimeters.

Material: High-quality carbon steel
Package Include:
Notes:
Due to the different monitor and light effect, the actual color of the item might be slightly different from the color showed on the pictures.